Welcome to the general public face of Noctua. Current development is very rapid, so some of these docs may be out of date.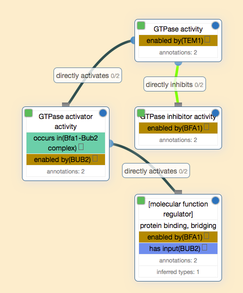 Quickstart
Noctua Users
Software Developers -- Development and technical documentation can be found on the GitHub repository.
Bioinformaticians and Systems Biologists -- See the Noctua models repository for access to the underlying models and explanation of the OWL representation
Biologists and end-users -- We are working on a number of ways to make the models easier to search and to use in data interpretation

Browsing of models and annotons in AmiGO. Currently only available in labs. Choose "Select/Browse" on the landing page
Network-based enrichment analysis
Check back on this site throughout 2016 to see progress!
How to use the beta
The current preview instance is available here; for a toy example model, see one of the scratch models.
This instance is configured for use with the Gene Ontology project.
Generating/selecting a model
Models that are currently known (either in memory or file) are found under [Current State] > select "Usable" > [Jump]
To create a new model from a class and a DB, use [Wizard] > (fill out first sections) > [Generate]; this operation could take tens of minutes depending on the complexity
To create a new model from just a DB, use [Wizard] > (fill out second section) > [Generate]; this operation may take minutes depending on the size of the GAF to be loaded
Directly loading by copy-and-paste is not currently tested
Instances and edges
A new instance can be created by filling in the form on the left side of the display
Double clicking edges and instances allows the editing of evidence and comments
Clicking on the green box upper-left of an instance allows you to view and edit the instance type information
By dragging the blue circle in the upper-right of an instance to anywhere on a different instance will allow you to create a relation between the two
Models
Model meta information can be edited by selecting [Model] > [Edit annotations] from the top menu
[Model] > [Soft refresh] gets a fully updated model from the server; this is what you'll use for the time being when another user makes a change to the model
[Model] > [Reset] complete reloads everything from the server from scratch
To export to a text file (Manchester syntax), use [Export]
To save your current model, select [Model] > [Save]; your model should now be available from the landing page
General navigation
Dragging on the background of the model allows you to pan around without using the scrollbars
Under [Views], there are various zooming options
To reduce clutter, the "part of" relation can be hidden by selecting [View] > [Show/hide "part of"]
The minimum space you start with is 800x600px. If you need more, try reseting your model--the space you can use will grow with it.
Known Issues
The bulk of major issues and feature requests are handled by the tracker (https://github.com/geneontology/noctua/issues). If something is not mentioned here or in the tracker, please contact Seth, Heiko, or Chris.
When editing large models, you may reach a point where almost anything you do will cause an error and hang (refresh to get back to where you were); if you want to make sure your model is saved, contact Seth #151
Sometimes, when moving instance or relations near a boundary, the relations will fall out of sync; either move nearby instances or refresh the model
Sometimes, when editing an instance, the relations (edges) will fall out of sync; either move nearby instances or refresh the model
Troubleshooting
Newer versions of Chrome and Firefox are supported, Safari is not supported
You need to have cookies allowed in your browser (for Persona)
Ad-blockers have been known to cause problems, please use a clean browser profile
You cannot save unless you have a title.
You cannot delete.
When weird things happen, this is pretty much what you should try:

Refresh your page
"Hard" refresh your page (probably by pressing "shift" or something when you refresh; the idea is to try and flush your cache, getting things freshly from the server)
Are you logged in? Are you sure? Try logging out and logging back in again--a bad session can cause all sorts of interesting things
Try going back to the main landing page, finding your model again, and trying again
Try contacting Seth, Chris, or Heiko
Noctua Resources